Work Related Partial Disability Claims in Oklahoma are filed as workers compensation claims. In 2016 an estimated 2.3 million people applied for disability benefits across the nation.  This includes full and partial disability claims also.  Of these claims, only about 23% get initial approval.  In 2015, this cost Oklahoma alone over $2.3m dollars just for partial disability claims for employees.   If you are facing a disability claim from a work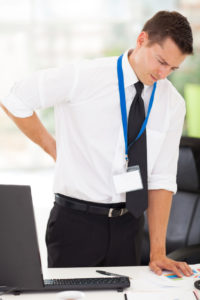 injury, this article will explain more and how we can help you.
Work Related Partial Disability: Temporary or Permanent
First we must define what a disability is.  Oklahoma's Workers' Compensation states that a disability is "incapacity" to earn same or similar wages as you are used to because of a "compensable injury".  Thus, if you receive injuries while working, you are able to receive compensation if the injury materially affects your ability to work.  Depending on the severity of the injury you may be temporarily or permanently put on disability.
Temporary Partial Work Related Disability
Temporary Partial Disability is under the Oklahoma Administrative Worker's Compensation Act.  It basically says that although a person cannot currently perform their job, it is temporary and they will be able to in the future.  Because this disability is partial, it also means that you could possibly perform light duty or other alternative work.  After you receive the medical attention you need, you will likely be able to continue at your normal position.
Workers' Compensation in Oklahoma provides you with certain types of compensation for temporary partial disability.  These are:
– Compensation up to 52 weeks (one year);
– Wage compensation of 70% or less of your original wage before the injury;
– You must accept alternative work if your employers gives you the option though.
We explain Soft Tissue injuries at work in more detail on our blog post here.
Permanent Partial Disability
Under Title 85A §2(34) of the Oklahoma Workes Comp Statutes, if you face permanent partial disability then you will never be able to return to your original position at work.  Even when you are rehabilitated as much as possible, you will not be fully healed.  At this point, your employer may find you alternative work in a permanent position.
If your employer cannot find you permanent work, you have certain benefits you may receive.  These are:
– Paid Compensation;
–  Vocational training for a new area of employment;
– A check of a maximum of $323 each week
Workers Compensation Legal Support
Hopefully this article provides you with a better understanding of temporary and permanent partial disability.  Nevertheless, there remains many legal formalities in the filing process.  These include deadlines, paperwork, and medical appointments as well as other tedious items.  Our attorneys have years of experience fighting for our clients' rights to workers' compensation benefits. For questions about work related partial disability claims call 918 379.4096.