Car Accidents in Tulsa And What To Do If It Happens:
If your car is struck while you are driving, you may be startled, shocked, and unsure of what to do. Should you call the police? Is an ambulance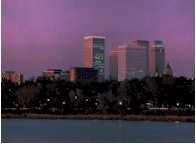 necessary? The unexpected and traumatic nature of car accidents makes responding to them prudently very difficult. This article offers tips and suggestions to help prepare you for handling the aftermath of a car accident.
Preparing in Advance For Car Accidents In Tulsa:
You will not have advanced notice of a car accident.  Nevertheless, you can equip your car to help you better respond in the event a crash does happen. In your glove compartment, keep a copy of your insurance policy, insurance card, and vehicle registration information together to hand to the other party or a police officer following an accident. Have a list of emergency contact numbers, including their names, their relationship to you, and their home, work, and cell phone numbers. The police or EMTs can use this information to call your loved ones if you are incapacitated in an accident. Also, store a notepad and pen to jot down important notes. In addition, keep a cell phone charger in your car to keep your phone at full battery power.
You've Had A Car Accidents in Tulsa, Now What:
Immediately after an accident occurs, conduct an assessment of yourself and your passengers for injuries. Don't rely solely on whether you feel any pain. Furthermore, conduct a visual inspection.  Upon traumatic injury, your body blocks pain receptors due to entering shock. If you are in a safe location, you should try to make sure the other driver is not injured and in need of medical attention. Do not get out of your car on a busy interstate or in a crowded intersection though.
— Call 911. If you, your passengers or the other driver experienced serious injuries that require an EMT, request that dispatch send an ambulance. Otherwise, request that dispatch send an officer such as an Oklahoma state trooper to write an incident report.
— If your car still runs, move your car to a safe location such as a median or emergency lane. However, if you are unsure of your car's condition or see any leaking fluids or smoke, do not turn the car on.
— Using your cell phone, take photos of the accident, including damage to your car and the other party's car.
— Jot down license plate number, make, model, and color on your notepad.
— Request the other driver's license, insurance, and car registration information. Copy this information onto your notepad.
— When the police officer arrives, give the officer your personal information and tell him or her what happened. Point out all of the damage to your vehicle and
— mention any injuries that you or your passengers incurred. Request to see the police report write-up to correct any errors, then ask for a personal copy.
–Call your car insurance provider. Inform them of the accident and give them the other driver's information. If you need roadside assistance, schedule for a tow truck and mechanic to come to your location. Your car insurance provider may request to interview you about what happened. Do not conduct the interview yet. Hence, this interview is likely recorded. Tell them you are in a safe location and will speak with them after you leave the scene.
Contact a Car Accidents Attorney in Tulsa:
— Call your car accident attorney and explain what happened. If you do not already have an attorney, call our law firm immediately for a free consultation. Share your story.  Afterward, we will explain your potential claims and instruct you on your best course of action. If you do not seek the advice of an attorney early on, you may find yourself pressured into accepting a settlement offer that does not fully compensate you for your injuries. Remember Car Accidents in Tulsa is what we do.