A Pedestrian accident can have serious medical consequences. Pedestrians and those operating motor vehicles have an obligation to share the road and follow all traffic laws. As motor vehicles must stop at red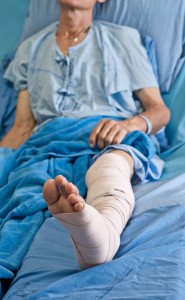 lights and stop signs, pedestrians must also pay attention to the traffic signals. The rules of the road apply to us all. However, more often than not, a pedestrian is at risk for suffering serious injury or death when a collision occurs. Unlike the driver of a car a pedestrian is likely to suffer much more serious injury in an accident.
Common Injuries in a Pedestrian Accident:
Pedestrians essentially have no protection from motor vehicles. Moreover, it is difficult for pedestrians to get out of the way of an approaching motor vehicle. This leaves pedestrians helpless, and at risk for suffering serious harm. Common injuries associated with pedestrian accidents include, but are not limited to, the following:• Traumatic Brain
Injuries (TBI), and other head trauma;
Broken bones;
Internal injuries, such as bleeding and damage to organs;
Soft tissue injuries, such as torn muscles, ligaments and tendons;
Loss of limb, and amputations; and
Spinal cord injuries, sometimes resulting in paralysis
Winning A Pedestrian Accident Injury Case:
We can quickly advise you on your potential personal injury claim. This done by evaluating your medical records, police reports, and other documents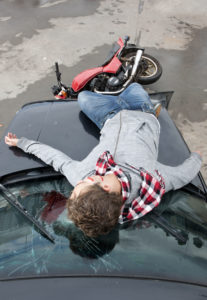 related to the accident. Our attorneys dedicate their time, money and energy ensuring you're fully compensated for your injuries. While pedestrians have the responsibility to follow traffic laws and only walk across the street when authorized, pedestrians are at a disadvantage, and not able to protect themselves from motor vehicles running into them.
In most cases its easier for a motorist to see a pedestrian than it is for a pedestrian to spot the vehicle. Motorists must be aware that pedestrians are present. This includes those times where a pedestrian is unlawfully crossing the street. If our injury Attorneys believe you have a case against the motorist who hit you we'll get you the maximum compensation. Our attorneys thoroughly investigate the accident scene, your medical condition, and get you the medical care that you require. No case should be considered an easy case. Even if you or a loved one suffered injuries because a motorist ran a red light, it still takes a substantial amount of investigation to maximize your compensation.
Contact Midtown Tulsa Injury Attorneys Law Office For a Free Consultation:
In this type of personal injury you should speak with an accident attorney as soon as possible. The Midtown Tulsa Injury Attorneys have the skill and passion needed to help you recover. The injuries resulting from pedestrian accidents can leave you with unpaid medical bills, lost wages, physical pain, and emotional pain. You and your family don't deserve to suffer at the expense of another's negligent conduct. Allow our Tulsa Oklahoma Attorneys to help you overcome your injuries and get your life back on track. Call our office today to schedule a free consultation by calling (918) 379-4096.