Oklahoma Workers Compensation Disability payments are fought tooth and nail by insurance companies. In 2001 the case of Gray v. Natkin Contracting together with the Oklahoma workers compensation insurance company representing his employer asked the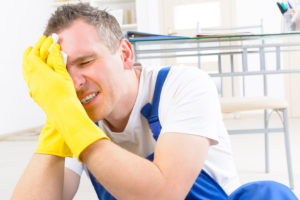 workers compensation court to suspend the injured workers Oklahoma Workers Compensation Disability benefits. The attorneys for the Workers Comp insurance company argued that due to Grays sporadic work while receiving Workers' Comp benefits all payments should be stopped.  Gray suffered on the job back injuries and as a result underwent surgery to his back.  An infection that was a result of the surgery further incapacitated Gray.  However, during the healing period, Gray occasionally performed security duties for the Tulsa Speedway.  The employers workers compensation insurance company argued that sporadic work disqualifies an injured worker from temporary total disability benefits.  If you've been injured at work and feel that the insurance company is withholding either medical or Oklahoma Workers Compensation Disability benefits from you we can help you.
Workers Compensation Temporary Total Disability:
Oklahoma law does not explicitly define temporary total disability.  However, temporary total disability means that you are unable to return to work while you are healing from the on the job injury. This includes those times when the employer offers you light duty but the severity of the injury prevents you from doing even light duty.  Total temporary disability will compensate you for loss of wages during the healing period.  Under 85A Okl.St.Ann. §45(A)(1), you may receive 70% of your weekly wage for up to 2 years during the healing period.  This time may be extended if the court sees is necessary, but only by one more year.
More related articles about Back Injuries at Work.
Workers Compensation Permanent Total Disability:
Permanent total disability, however, is a much different case.  It can mean loss of limbs, eyesight, or even life.  Further, 85A Okl.St.Ann. §2(35) also provides for the possibility of a debilitating occupational disease.  For example, if you have cancer related to asbestos poisoning due to your scope of work, you may qualify.  Under 85A Okl.St.Ann. §45(D)(1), you may receive 70% of your weekly wages until you are able to claim the maximum retirement amount of social security or you reach the 15 year maximum on disability.  Section D(2) goes on to require that you must not be working or your benefits may be suspended.  Finally, if the party receiving injuries dies from the accident, then the family of the deceased may receive maximum weekly benefits from the company for 6 months.
Let Our Oklahoma Workers Compensation Disability Attorneys Help:
As you can see, total disability has many complexities.  If you find yourself in the position of applying for or needing total disability benefits because of an on the job injury, call us.  Our Tulsa work injury attorneys have years of experience tackling problems involving on-the-job injuries and how to help those in need.  We understand the legal avenues and want to help you get the best possible representation. Call us today at 918.379.4096 or read more of our Midtown Tulsa Injury attorneys blog.