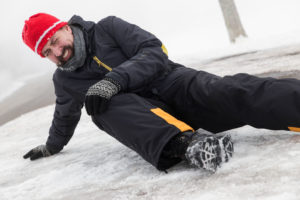 Knee Injuries at Work are some of the more common work injuries in Oklahoma. The National Library of Medicine reports the knee injuries are the second most common type of work-related injury.  Nationwide over 150,000 workplace knee injuries happen annually.  The average cost of a knee injury is close to $20,000 overall.  Clearly, this is something that is troubling for the typical American worker to cover out of pocket if facing rejection from Oklahoma worker's compensation benefits.
Knee Injuries at Work— Cause and Effects
Knee injuries at work occur for many reasons.  Mainly though, workplace knee injuries are the result of falls, slips, or heavy lifting gone wrong.  These most often take place in manual labor or physically demanding jobs, such as construction or police and firefighting.
Certain cartilage tears, ACL injuries, and tendon tears require specific medical treatment that only doctors and surgeons can provide.  For example, a meniscus tear is regularly an issue in knee injuries.  The meniscus is the thin cartilage tissue between the shin bones and the femur.  When the meniscus tears you lose stability in your knee and also may have painful snagging and catching on the torn piece.  This cartilage does not heal and does not grow back.
Compensation and Rehabilitation For Knee Injuries at Work
As an employee in Oklahoma you have certain rights to worker's compensation.  However, you must follow a process to claim your rights.  The following steps will begin your process:
Report the knee injuries at work to your supervisor and workplace safety manager. It is highly recommended that you report to your union if you belong to one.
Request medical treatment in a written document. You should also make a copy of the request for your personal records.
Contact a workers compensation lawyer to aid you in filing the proper worker's compensation forms.
Read this article about Oklahoma workers compensation temporary disability.
Experienced Work Injury Lawyers Ready to Support You
Our Tulsa Work Injury lawyers have years of experience in supporting Oklahoman's in workers compensation claims.  Companies will often attempt to force you to accept a lower standard of treatment based off diagnoses from their own doctors.  Don't fall for these tricks.  Let our injury attorneys navigate the process for you, so you can receive the medical treatment, compensation, and continuing care you deserve. Call us today at 918.379.4096